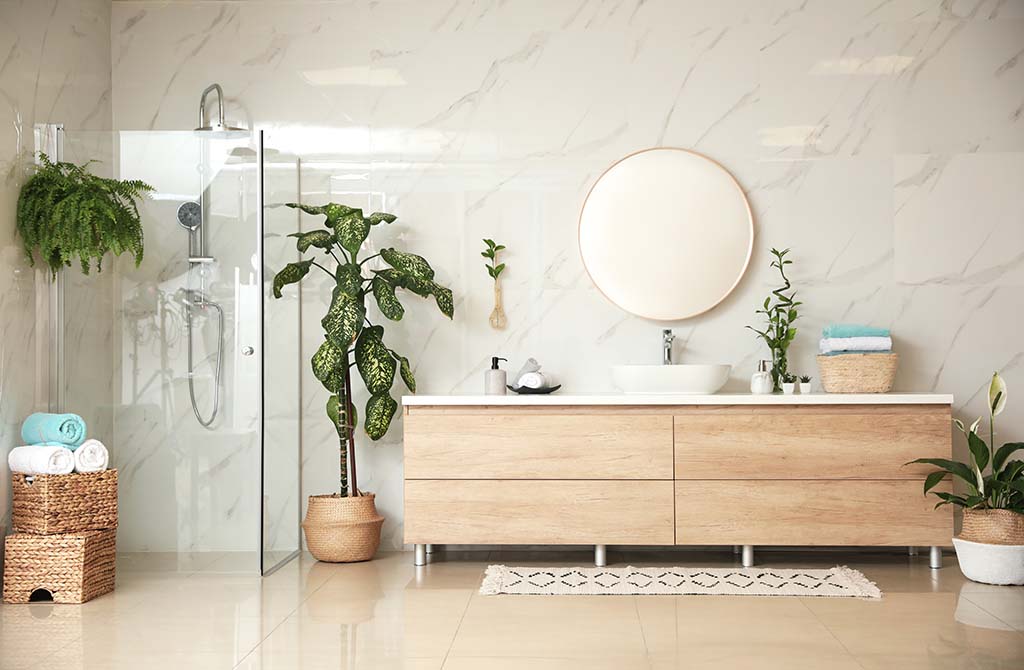 Marshall Cabinets is a dignified & a symbolic name for bathrooms with highly unique styles. Also, the designs & the cabinets. Thinking for bathroom renovations. Why don't you compliment Marshall Cabinets in your list of preferred bathroom style companies. Companies, that should suit you? Our bathroom Cabinets are a symbol of style & design that should complement your customized preferences. Bathroom Vanity which also includes Bathroom Vanity with Sink. Hence, with modern elements is the characteristics of Marshall Cabinet's bathroom styling with key features.
The bathroom Vanity, which includes Sink, Mirror and a counter-top. Alternatively, a bathroom wood countertop. All these are added features. Hence, according to customer demands as bathroom vanity can have multiple features. Obviously, as modern vanities incorporate lights. Apart from the lights, the architectural styling details. Furthermore, built-in shelves and so on and so forth.
The Bathroom Custom Vanity, a feature with Marshall Cabinets. Furthermore, designs where you can simply add some features. Obviously, on basis of your custom needs & requirements. The Bathroom Vanity Ideas. That is, share your unique ideas the way you want your bathroom to look. Hence, according to modern standards in Sanitary. Bathroom Vanity Installation, a process which we do for sake of our customers. Thus, while installing bathroom Vanity Units. Obviously, according to the demands of the customers. Marshall Cabinet's customers can be people who are owners of posh homes. Alternatively, the owner of hotels & motels. As well as those who would love to make bathroom renovations to make their toilets look highly attractive. Apart from this, unique in terms of the symbolic attributes.
Bathroom Styles with a massive variety in different designs for the sake of Marshall Cabinet's home ware & bathroom ware key attributes. Obviously, it's a symbol of uniqueness that brings style & elegance in bathroom Cabinets style.
UNIQUENESS IS THE KEY IN BATHROOM DESIGN:
Marshall Cabinets key attributes for Bathrooms is the uniqueness in bathroom design ideas & bathroom decor ideas. Both of these are key features in bathroom Custom Cabinets & bringing dynamic attributes in bathroom design. In the bathroom design section, the bathroom cabinet designs for Marshall Cabinets is what Marshall has been highlighted as a symbol in Cabinetry & Architectural Intelligence.
The Bathroom Cabinet Storage, with massive storage spaces is Marshall's attribute which explains the phrase, 'good utilisation of space'. Marshall Cabinets increased storage levels relaxes in terms of the space utilisation & what makes the utilisation a key attribute for future results.
The Sanitary attached with toilets is a necessity for the sake of appeal, richness & hygiene elements. We at Marshall Cabinets have high standards regards to the look & feel of bathroom along with bathroom vanity & sanitary values. Hence, an overall look of the bathroom design & bathroom decor is just incomplete without Marshall Bathroom Cabinet's key features which includes styles, Marshall Cabinets Storage & finally the design of the cabinets.
Marshall Cabinets, a symbol in bedroom & kitchen decor has moved many ranks up in bathroom decor, style & elegance. A lot owes to commitment in values towards high quality design & decor.