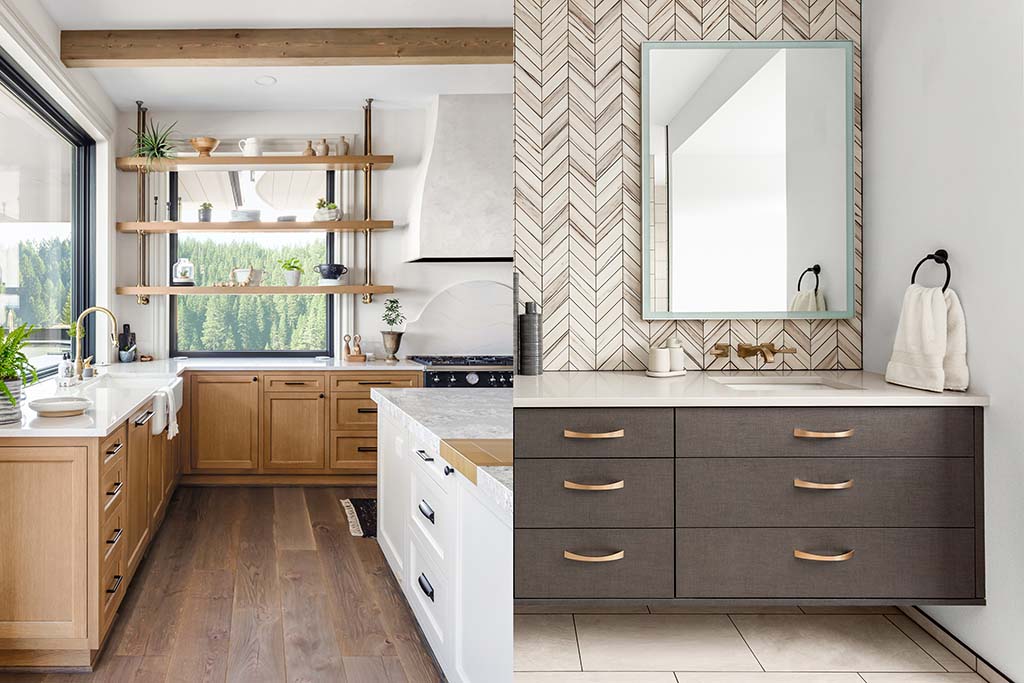 Cabinets, provides the elegance you need in your Kitchen & Bathrooms. Furthermore, is the necessity of the modern dining & bathroom environments. Marshall Cabinets have excelled in providing the best cabinets. These are ones, that you will love. Also, the environment that you will trust. Our Custom kitchen designers are truly equipped with the abilities. In addition to this. Fully equipped, with the talent to give you the best Kitchen. That is, according to your demands.
If you love cooking, you should get the feel of the environment. Hence, as well as the passion to cook while you make use of Marshall Cabinets. The Kitchen Cabinet Refinishing Kelowna, is a signature of our excellence in the industry. Make use of our Custom Kitchen Cabinets options. Also, design the way you would love your kitchen to look. The customization option is always the choice. Something, that we give our customers regards to their priorities. That is, for fabulous kitchen cabinets.
ONLY IF YOUR BATHROOM IS AN INSPIRATION FOR YOU:
Your bathroom is the greatest expression for you. Also, for your family & your guests. It truly expresses your personal style. The way you love to spend your time in the bath tub. Alternatively, while getting ready for a party or an event. Marshall, the company truly adds lustre to the same. Hence, while we deliver quality all the way. Our cabinets designed with perfect finishing to place your towels. As well as your toiletries. Finally, your shaving kit, to make you look clean & good.
Our products that are a symbol of excellence. Truly, compliments the bathroom sanitary. You can't miss your ultimate party look. A look that adds convenience. Also, sheer elegance. Finally, demonstrates class in all possible ways.
Our Cabinet makers & Cabinet designer are not only equipped with excellence. That is, in making cabinets for you. However, they are dedicated highly for kitchen and bath Kelowna. Bathroom Cabinets Kelowna, are a trademark of excellence. Specifically, in Kelowna City in British Columbia. It demonstrates the standards of living of the people of Kelowna. On top of this B.C. How they match the provincial standards of British Columbia.
STYLE THAT WILL MAKE YOU A SYMBOL OF EXCELLENCE: 
We value style & add uniqueness to your style. Thus, to make you a symbol of excellence. Whether, you own a Bed & Breakfast. Alternatively, you are an owner of a motel. Furthermore, you want to add value to your own living standards. Don't just forget bathroom cabinets Kelowna. As well as, kitchen & bath Kelowna. In addition to this, Wall to wall kitchen is the next key word in the list. A word that will make you a symbol of class & excellence. Something, that as a Kelowna Marshall. A client you will surely enjoy.
Finding excellence is not that hard. However, maintaining excellence can be tough in the field of furniture & cabinets. Especially, dealing with cabinets in Kitchen & Bathroom. It must compliment your rich bathroom standards. Hence, as well as standards in the Kitchen. That must suit your priority health & safety requirements. Also, known as H&S, a mandatory criteria for delivering standards. Marshall Cabinets Kelowna, also compliments the standards of Kelowna, British Columbia. The theory is simple & easy. That is, "Delivering Standards" all the way.